Anyone who has done business in downtown San Bernardino should be familiar with Molly's Café on the corner of D and Court Streets.  A traditional American Diner with a flair of Mexican, Molly's has successfully survived the city's ups and downs over several decades, and we are happy to say that based on our recent visit, they continue to do so.
Over the past few years, Molly's has expanded their breakfast and lunch menus to meet even the choosiest patron.  We arrived for brunch on a busy Thursday morning and dug into the extensive menu.
My colleague chose the Stuffed French Toast Combo with sourdough bread stuffed with cream cheese and boysenberries.  I went the lunch route with a Reuben Sandwich.
The French toast plate was huge and the cream cheese-boysenberry stuffing was rich and delicious.  While this plate is a little on the high-priced side, it is worth every penny and you will need the to go box as well.
The Reuben was prepared with corned beef, sauerkraut and a thousand island dressing on rye.  It was a slightly different take on a Reuben, but was delectable and well portioned.
Overall, this was a great meal and a very reasonable price, especially with the portions and excellent service we received.  It's good to know that Molly's has only gotten better with age.
Molly's caters to the downtown business crowd and operates from 6 AM to 4 PM on weekdays and from 8 AM to 3 PM on weekends.  Whether you are visiting for business, have a court date, or are just looking for someplace local, you will be pleased with both the food and the service at Molly's!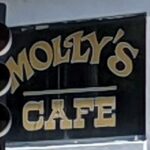 Molly's Cafe
350 North D Street
San Bernardino, CA 92401
(909) 455-9688
Restaurant Review is a bi-weekly contribution to San Bernardino News Daily covering local restaurants in the city.  This newspaper encourages residents to support our local eateries, businesses and employers.  Support your neighbors.  Support your local economy.