San Bernardino County Firefighters responded to a fire Friday night at The Gourmet Restaurant at 1445 E Highland Avenue.  The fire left the long-vacant structure heavily damaged.
The Gourmet joined the former Mediterranean Restaurant, which burned exactly one week prior just a block away.  The Mediterranean was completely gutted.
Both restaurants had been mainstays for local diners for decades before closing permanently after the millennium.  Like many businesses along Highland Avenue, they struggled to compete with Hospitality Lane and growing competition in other regional shopping and dining opportunities.  Of the dozen or so Mom and Pop restaurants that used to flourish on Highland, only a few like the Mexico remain open and prosperous.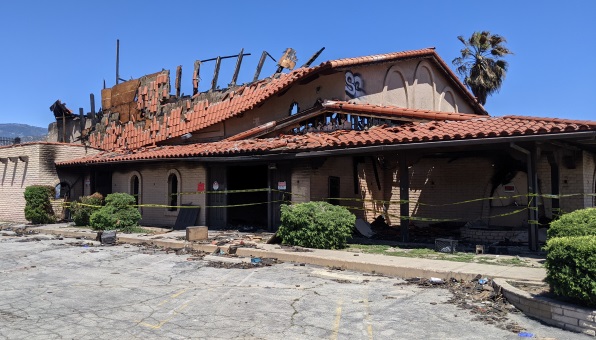 The Gourmet and Mediterranean appear to be damaged beyond repair and are likely to be demolished.  No causes for the fires have been released, but it appears likely that squatters may have unintentionally set the structures ablaze even though the timing of both being destroyed within a week seems more than coincidental.