While Chinese cuisine has been in the Inland Empire for a very long time and more recently Japanese and Thai food have arrived, it is difficult to find a Korean restaurant in the Inland Empire.  While Korean BBQ restaurants are becoming more popular in the Inland Empire as our palates diversify, we were very excited to visit a more traditional Korean restaurant located near Hospitality Lane.
Myung Ga Korean BBQ and Tofu prepares numerous Korean specialties including Kimchi Stew, various hot and cold noodle dishes, and traditional Bibimbap which we have not found outside of the Los Angeles area.  These dishes are only slightly different from the cuisine in South Korea that we have previously experienced, and are offered in less spicy versions.
We tried the Bibimbap which Myung Ga names Bibim Bob. This rice dish with various mixed vegetables, beef and egg which the diner is supposed to mix together is one of the most common Korean dishes.  They offer this in the Dolot version, which is a preheated stone pot that makes the rice on the bottom crunchy.  The Dolsot pot also keeps the food hot.
I enjoyed this version of Bibimbap, but it was not offered with Gochujang, a Korean Red Pepper Paste that provides a spicy addition.  I think I should ask for it next time. Overall, the service was excellent and it is obvious that they care a great deal about their cuisine and their patrons, many of whom are probably unfamiliar with the Korean food outside of the realm of BBQ.
I highly recommend you visit Myung Ga as soon as you can and enjoy a different type of Asian cuisine.  You will find a broad array of dishes to experience, all of which look and taste amazing and authentic.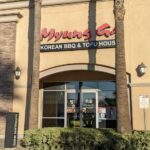 Myung Ga Tofu & Korean BBQ
1760 S Tippecanoe Ave Ste 1C
San Bernardino, CA 92408
(909) 799-1727
Restaurant Review is a weekly contribution to San Bernardino News Daily covering local restaurants in the city.  This newspaper encourages residents to support our local eateries, businesses and employers.  Support your neighbors.  Support your local economy.